The Indoor and Outdoor Flexible LED Display Panel
Product Detail
Parameter
Application
Product Tags

Suitable for all kinds modules ,Upgrade replacement is easy
During the assembly process, the magnet on the back of the module can be adjusted to the adjustment gap at the uneven position. For flatness, please take the module out and adjust it after adjusting it. Please do not pull violently.

Magnet suitable adjustment to ensure flatness
The module is soft and flexible, could be designed into any different shapes as you can imaging.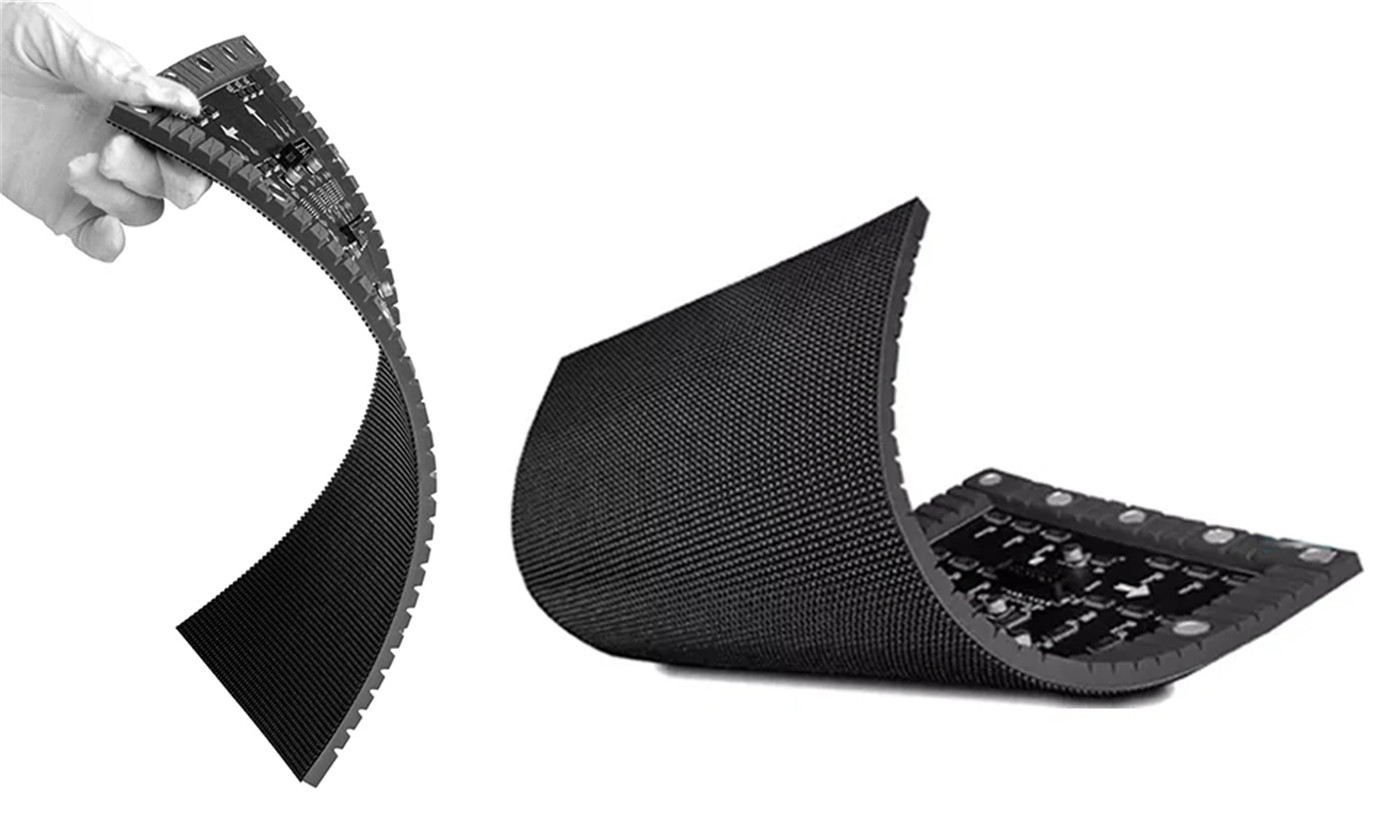 Long-term aging test, 10,000 bending and folding tests, 1500-days terminal market application.
It is waterproof, transparent, quick installation and easy to maintain.

Advantages of Our Flexible LED Display
Ultra-Thin And Ultra-Light.

Small pixel pitch available from P1.875mm to P4mm.

High quality with a low maintenance cost, low failure rate.

High refresh rate from 3840Hz to 7680Hz. and stable running are all ensured.

Easy to install and maintenance. Time-saving and easy operation, allow to assemble LED display screens directly from the front.

Widely use for the different application especially for arc installation.  Very suitable for stage background, exhibition hall, indoor conference room, and other places that need special-shapes LED display.
---
---
Item
Indoor  P1.25
Indoor P1.875
Indoor P2
Indoor P2.5
Indoor P3
Indoor P4
Pixel Pitch
1.25mm
1.875mm
2mm
2.5mm
3mm
4mm
Module size
240x120x8.6 (L x H x T)
lamp size
SMD1010
SMD1515
SMD1515
SMD1515
SMD2121
SMD2121
Module resolution
192*96dots
128*64dots
120*60dots
96*48dots
80*40dots
60*30dots
Module weight
0.215kgs
0.21kgs
0.205kgs
0.175kgs
0.175kgs
0.17kgs
Pixel density
640000dots/sqm
284444dots/sqm
250000dots/sqm
160000dots/sqm
111111dots/sqm
62500dots/sqm
Scan mode
1/64 scan
1/32scan
1/30scan
1/24scan
1/20scan
1/16scan
Module Bottom Shell Material
Silicone soft bottom shell
Brightness
700-1000cd/㎡
Refresh rate
≥3840Hz
Grey Scale
14-16bit
Input Voltage
AC220V/50Hz or AC110V/60Hz
Viewing Angle
H:140°, V:140°
Power Consumption(Max. / Ave.)
45/15 W/Module
IP rating(Front/Rear)
IP30
Maintenance
Front Service
Color Temperature
6500-9000 adjustable
Operating Temperature
-40°C-+60°C
Operating Humidity
10-90% RH
Operating Life
100,000 Hours
Write your message here and send it to us
Products categories